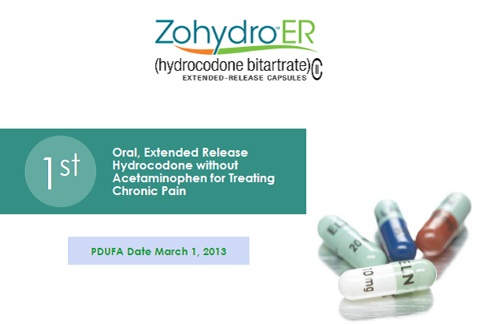 The Join Together Staff recently wrote an article titled, "FDA Panel Votes Against Recommending Zohydro for Approval."
Zohydro ER is intended to be a painkiller for those suffering with chronic pain, but the panel of experts assembled by the U.S. Food and Drug Administration (FDA) voted against approving the drug. They noted their concerns of its potential for addiction, Reuters reports.
Approval still could occur if FDA officials impose safety restrictions.
The vote against approval of the painkiller was 11-2. The panel noted that though Zogenix, the drug's creator, just barely met the marks for safety and efficacy, it could be used for people addicted to other opioids, like oxycodone. Zohydro contains the opioid hydrocodone, but unlike some hydrocodone products, it does not contain acetaminophen.
By March 1, the FDA will decide whether or not to approve Zohydro for sale in the United States, specifically for those who require constant painkillers for an extended period of time.
Stephen Farr, PhD, President and Chief Operating Officer of Zogenix, said that "Zogenix recognizes and appreciates that prescription opioid misuse and abuse is a critical issue. However, it is also important to remember that there is a documented patient need for an extended-release hydrocodone medicine without acetaminophen. We remain confident in the measures we have proposed to support safe use of Zohydro ER and are committed to continuing to work with the FDA through the review process to bring this treatment option to this specific patient population."
Steve Pasierb, President and CEO of The Partnership at Drugfree.org implored the agency to not approve Zohydro ER without requiring tamper-resistant containers. "If all extended-release opiate products were required to incorporate tamper-resistant technology, we believe that we would start seeing a beneficial societal impact of less abuse of opioid products, fewer prescription drug overdoses, and fewer deaths," he wrote to FDA Commissioner Margaret Hamburg, MD. "As a public policy matter, we should all be encouraging companies to 'retrofit' their current products so that they are more difficult to abuse. And we certainly should not be approving any new opiates without these protections."