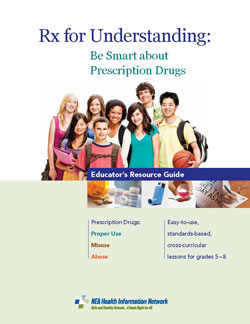 Medicine has saved millions of lives, but it must be used properly. The youth of today must learn the positives as well as the dangers of using medicine.
In a commentary on Drugfree.org by Nora L. Howley, the manager of programs at the NEA Health Information Network, stresses how crucial it is to teach our kids the life skill of how to properly handle medicine usage.
One in four young adults have reported taking a prescription drug not prescribed to them by a doctor at least once. Making these wrong choices often starts in middle school.
The NEA Health Information Network (NEA HIN) has made it one of their missions to educate teachers and families so they can help these teenagers. They decided to create Rx for Understanding, a program that includes 10 cross-curricular lessons. They are aided by Common Core State Standards. These lessons aim to help students "recognize and avoid the dangers of misusing and abusing prescription drugs," Howley writes.
The program focuses on three principle focuses: proper use, misuse and abuse. They are aimed to build knowledge and skills.
"Rx for Understanding was developed and pilot-tested with input from educators around the country," Howley writes. "Users report that the lessons are 'easy-to-use' and 'accessible.' Because lessons are aligned to various content areas, they can be included in various parts of the middle school curriculum."