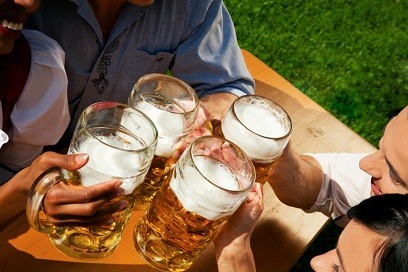 In a recent article by the Join Together Staff of Drugfree.org, they highlighted an article showing findings on heavy drinking in America.
According to government guidelines, a new study has found hat 18 percent of men and 11 percent of women drink more alcohol in a day than is advised by federal dietary guidelines, as reported by Reuters. The study also found that 8 percent of men and 3 percent of women are heavy drinkers.
The article notes that two drinks per day is the recommended limit for men and one for women. The 8 percent of men in the study had five or more drinks, the 3 percent of women, four drinks or more.
Patricia Guenther, the lead author and a nutritionist at the U.S. Department of Agriculture's (USDA) Center for Nutrition Policy and Promotion, told Reuters that "most adults don't drink at all on any given day. But the fact remains that it is a significant public health problem that many people do drink in excess."
In the male group, men age 31 to 50 years old comprised the largest percent of heavy drinkers. Among women, the 51-to-70-year-old age group made up the largest percentage of heavy drinkers. "People need to be aware that there are people of all ages who drink to excess," Guenther said.
The study comprised of data from about 5,400 adults over age 21. They found 64 percent of men and 79 percent of women did not drink any alcohol the day they were surveyed. These findings are reported in the Journal of the Academy of Nutrition and Dietetics.